Mattel et Milestone révèlent aujourd'hui un nouveau trailer de gameplay pour Hot Wheels Unleashed, consacré à son troisième environnement : le campus universitaire !
Avec pour décor une université américaine typique, le campus est un environnement complexe qui se compose d'un hall principal relié à trois pièces : la bibliothèque, la salle de classe et le labo de chimie. Les joueurs pourront créer des circuits dont les pièces seront connectées au hall ou au puits d'aération. Davantage d'environnements et de voitures seront dévoilés dans les prochains mois.

De plus, sept nouveaux véhicules parmi la soixantaine qui sera disponible au lancement du jeu, sont également présentés :
Street Wiener™
Total Disposal
Power Rocket™
Skull Crusher™
Tanknator™
Winning Formula™
Exotique™

Hot Wheels Unleashed propose aux joueurs l'opportunité de conduire, comme si ils jouaient avec les petites voitures de la célèbre marque de jouets. Le gameplay du jeu comprend des courses emplies d'adrénaline, ainsi qu'un large éventail de voitures Hot Wheels, chacune possédant son propre niveau de rareté et ses caractéristiques que les joueurs peuvent personnaliser avec divers revêtements. De plus, ils retrouveront des circuits à couper le souffle, situés dans des lieux de vie quotidienne, composés de parcelles de piste spéciales et d'objets interactifs. Le jeu propose également une fonctionnalité d'édition de circuits révolutionnaire, permettant aux joueurs de personnaliser des parcours dans n'importe quel environnement et de les partager avec la communauté.
Hot Wheels Unleashed sortira le 30 septembre 2021 sur PlayStation 5, PlayStation 4, Xbox Series X|S, Xbox One, Nintendo Switch et PC. Précommandez le jeu dès maintenant !

Hot Wheels Unleashed™- Day One Edition :
Cette édition Day One est disponible sur toutes les plateformes, sauf PC. Elle comprend :
Le jeu complet Hot Wheels Unleashed
Le DLC HOT WHEELS™ - Sportscars Pack qui donnera accès à 2 véhicules supplémentaires en jeu : Track MangaTM et GT-ScorcherTM.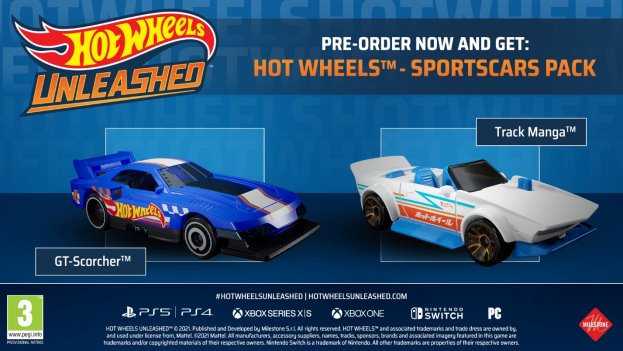 Hot Wheels Unleashed™- Challenge Accepted Edition :
Cette édition Challenge Accepted est disponible sur toutes les plateformes, sauf PC. Elle comprend :
Le jeu complet Hot Wheels Unleashed
Un modèle réduit Bone ShakerTM avec une livrée exclusive
Un Steelbook
Le HOT WHEELS™ Pass Vol. 1 qui donne accès à 15 véhicules, 25 objets de personnalisation, 4 pièces de circuit et une extension thématique
Un poster double face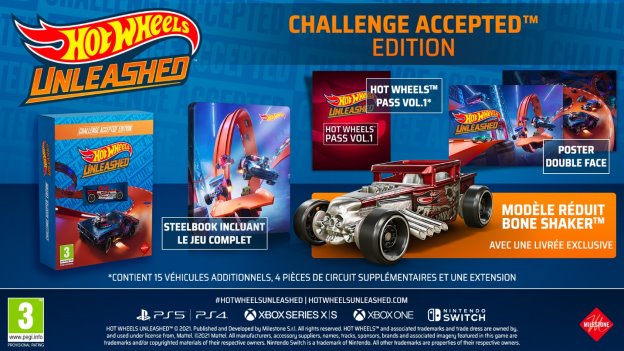 Pour plus d'informations, rendez-vous sur hotwheelsunleashed.com. Les fans peuvent également échanger sur le jeu avec le #HotWheelsUnleashed sur Facebook, Instagram, YouTube et Twitter.
About Milestone
Founded in Milan in 1996, Milestone S.r.l. is one of the leading and longest established racing game developer in the world. The 200+ people team is responsible for hit series like MotoGP™, MXGP and Monster Energy Supercross – The Official Videogame, as well as own IPs Ride and Gravel. For more information please visit
www.milestone.it
About Koch Media
The Koch Media Group is a global developer, publisher and distributor of video games, VR games, gaming hardware and merchandise.

The group's publishing activities, marketing and distribution extend throughout Europe, America, Australia and Asia. Koch Media has more than 25 years of experience in the digital media business and has risen to become a leading global publishing partner. The Koch Media Group runs a multi-label strategy with fully owned publishing units such as Deep Silver, Milestone, Vertigo Games and Ravenscourt, publishing games for consoles, PC and VR platforms across all physical and digital channels.

Additionally, as global publishing partner Koch Media has formed long-term multi-national publishing collaborations with numerous game publishers including Activision Blizzard, Bethesda, Capcom, CI Games, Giants Software, Kalypso, Koei Tecmo, Konami, Paradox, Sega, SNK, Square Enix, Techland, Tripwire, Warner Bros, and many others.

With its parent company in Höfen, Austria, and the Publishing HQ in Munich, Germany, Koch Media owns local publishing companies in Germany, UK, France, Spain, Italy, Sweden, the Netherlands, Austria, Switzerland, Poland, Australia, the United States as well as Japan and Hong Kong.

The Koch Media Group owns nine game development studios: Deep Silver Volition (Champaign, IL / USA), Deep Silver Dambuster Studios (Nottingham / UK), Deep Silver Fishlabs (Hamburg / Germany), Warhorse Studios (Prague / Czech Republic), Milestone (Milan / Italy), Voxler (Paris / France) , Flying Wild Hog (Warsaw, Kraków, Rzeszów / Poland), Free Radical Design (Nottingham / UK) and Vertigo Games (Rotterdam /The Netherlands). Additionally, the Koch Media Group collaborates with numerous independent development studios around the world.

Part of the Koch Media Group is also Koch Films, a leading European independent film distributor with business primarily in Germany, Switzerland, Austria and Italy as a cinema, TV, online and Home Entertainment distributor. The Koch Media Group also owns Gaya Entertainment, a leading video game merchandise company in Munich, Germany, and the Quality Assurance Facility in Olomouc, Czech Republic.

Koch Media is an Embracer Group company.